Name: Chris Schmauder
I have now spent 7 years with team ER with this being my 8th and it as been a great experience.

I began racing because I needed something competitive to do and a friend competed in one so I figured if he could do it so could I, from then on it has become and addiction. I have previously raced primarily short distance races but after finishing Ironman Florida I am retooling and preparing for long distance races while also enjoying the short distance fun. .
PR's
5k: 19:10
Duathlon: 1:01
Twinsburg)
Sprint Tri: 1:04 (Munroe Falls)
Olympic Tri: 2:09
Half Ironman: 5:16
Ironman (11:28:07) Ironman Florida
Goals for the coming year
Improve short course speed
Improve endurance for long course
Place high in all local events
Promote our sponsors (Richies Sporting Goods, Eddy's Bike Shop, Fresh Start Diner, Marketing Resources and Results, Doctors of Optometry)
Promote the multisport atmosphere with the team through training, racing, and volunteering
Finish in top three of races entered,  Finish top 15 Age Group National …..Qualify for worlds
Planned Race Schedule
Local sprint and olympic triathlons
More run specific races
Age Group Nationals, Olympic distance
Rev 3 Cedar Point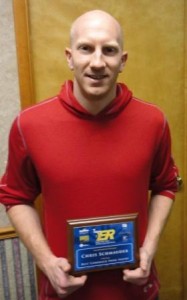 Team ER would like to recognize the team's Best Comeback from injury….Chris Schmauder