Name: Wally Schlepper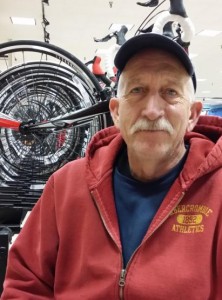 I have been in some type of athletic training since I was young, although as I have gotten older, things seem to be slowing down. You start to wonder where that kick went? I've done 1/2 Ironman, swam the course in Kona. Done a couple century rides. Swam 12 miles in six hours in a two day period for the diabetes swim and road raced motorcycles (180mh knee dragger) for over 20 years.
Race Schedule
Feb. Sebring Florida 12 hour road race
May  Tallmadge 5k
May  Calvins Challenge 12 hour bicycle race
Triathlons:
 Monroe Falls
Miltonman
Portage Lakes
Haven't decided the distances yet. Really depends on the day. Well good luck to everyone on the team and I'm looking forward to seeing all of you at the races!