Renee Buckus
My name is Renee Buckus.  I am from Kent, Ohio but currently live in Cleveland, Ohio.   I work in Cleveland as a Supply Chain Specialist focused on purchasing and logistics.
Back in May of 2019 I decided it was time to lose weight and get in shape. To date I have lost almost 70 pounds and I am continuing on this journey to be my best self.  I started working out solely as a means to lose weight however I now find myself enjoying it!  I work out around 5-6 times per week and my work outs range from running, biking, strength training and yoga.
In October 2019 I ran my first 5K (The "Donut Worry, Run Happy" event hosted by Brewnuts in Cleveland, OH) and finished with a time of 38 minutes and 43 seconds. I was immediately hooked to running 5K's and have ran 3 more since.
– November 2019: Kent Turkey Trot (Finish: 37 minutes and 01 seconds)
– December 2019: Jingle Bell Run (Finish: 37 minutes and 34 seconds (this was a very slippery race!))
– January 2020: Resolution 2020 5K (Finish: 33 minutes)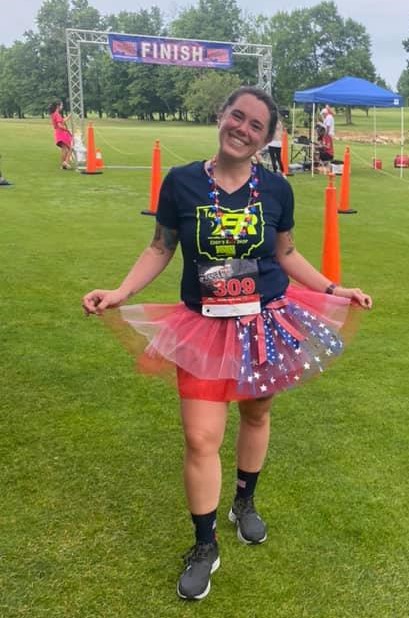 I joined Ohio Team ER for many reasons but most importantly for two things: a sense of community in the running world and motivation. I enjoy posting about my workouts on social media and in doing so I have received many messages from people that I have helped to motivate… that is a great feeling!